Shaken, Stirred & Smoked | The next Davenport X Spiceology Dinner at the Davenport Grand's Table 13 will take place on the Friday of Father's Day weekend: Friday, June 16th. We invite you to enjoy an evening of smoke, spice, beer, wine, whiskey and more. Six courses, two chefs, one unforgettable evening of food and drink. The evening will kick off at 6pm in the Grand Restaurant with a welcome drink and starter bite, and guests will be seated in Table 13 at 6:30 for dinner.
_____
Starter: Cold Smoked Pacific Oyster with Spiceology Oyster Butter and Sea Asparagus Salsa.
Beer Cocktail: Kugar Kolsch Raz Radler
_____
Course 1: Hot Mary-Smoked Halibut with White Tomato Velouté, Wasabi Oil and Crispy Kalamata and Fennel Chips.
Beer Cocktail: Baja Michelada
_____
Course 2: Whisky-Smoked Duck with Crackling, Fermented Red Cabbage, Smoky Yolk, Shimeji and Pickled Ramps.
Cocktail: Rye Whiskey Sour with Campari Ice Cubes
_____
Course 3: Mezcal-Smoked Lamb Barbacoa Purse with Radish, Coriander and Guajillo Crema.
Cocktail: Mezcal Hibiscus Paloma
_____
Course 4: Chocolate Cherry Chipotle Smoked Brisket with Pickled Cherries and Fried Raclette Mac 'n Cheese.
Wine: 10,000 Hours Syrah (Washington)
_____
Course 5: Smoked Cream & Taters: Malted Caramel and Cardamom-Smoked Popcorn Ice Cream, Huckleberry Mascarpone Cloud and Marzipan-Cinnamon Potatoes.
After Dinner Drink: House-brewed coffee with Kahlua Whipped Cream.
_____
Meet the Chefs:
Chef Eric Nelson | Chef de Cuisine Davenport Grand Hotel, Marriott Autograph Collection, culinary instructor, recipe wizard, local foodie, beer and wine guide, adventurer and St. Bernard travel bud.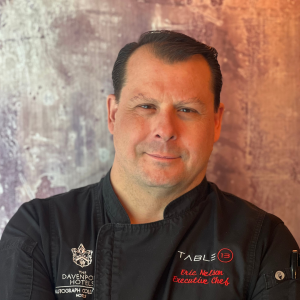 Chef Tony Reed | Executive Director of Culinary for Spiceology, Szechuan passionate, culinary instructor, dad to Priscilla, lover of all things spice.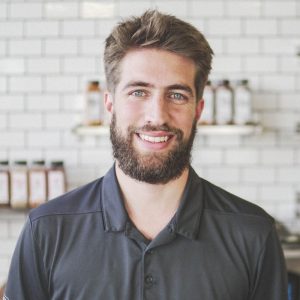 The Venue | Table 13 at the Davenport Grand