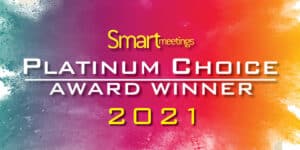 The Davenport Grand Hotel was selected as a winner of the 2021 Smart Meetings Platinum Choice Award. This award honors the hospitality industry's top-ranked hotels, venues, and destinations that deliver the highest standards of overall excellence. Smart Meetings Platinum Choice honorees reflect a commitment to quality and continue to raise the bar for the hospitality industry year after year.
The 2021 winners, including the Davenport Grand Hotel, were nominated by dedicated industry professionals and received a thoughtful review by the Smart Meetings judges.
"These premier hotels, venues and destinations stepped up during a challenging time and helped to deliver safe, engaging experiences despite uncertainties. We commend their dedication to serving their customers and the entire meeting professional community," said Marin Bright, Smart Meetings founder and CEO. "We encourage our audience of planning professionals to consider these remarkable supplier partners for meeting destinations as we return to meeting in person in the coming year."
"We are delighted to be recognized as a top hotel among this years' Platinum Choice Award Winners," said Lynnelle Caudill, Davenport Hotels Managing Director, "I am proud of our entire staff who all work creatively with our meeting planners and guests to deliver fabulous events. Most of all, thank you to our guests for choosing to host your events with us, it is truly our pleasure to bring your events to life at the Davenport."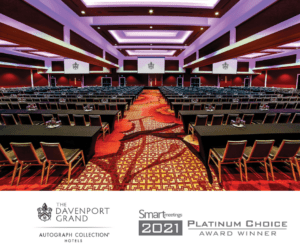 About Smart Meetings:
Smart Meetings is the leading meetings industry publisher and voice of inspiration for meeting professionals. Their goal is to inspire their audience of meeting and event professionals to dream big—and create brilliant experiences that delight attendees, achieve desired results, and elevate the impact of the meetings industry. Smart Meetings publishes cutting-edge meetings content in print and digital, hosts world-class networking events, produces CEU-accredited webinars, and offers a myriad of digital resources. The publication annually awards the prestigious Smart Stars and Platinum Choice Awards to hospitality companies that meet the publication's high standards.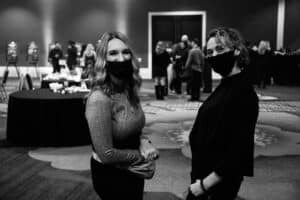 Left: Jenna Hatfield, Wedding and Social Events Sales Manager; Right: Missy Smith, Wedding and Social Events Service Manager
About Davenport Hotels:
Davenport Hotels, located in Spokane, Washington, is a collection of five hotels made famous for their world-class service and luxury guest experience. Originally opened in 1914 by Louis Davenport and designed in the mold of Europe's grand hotels, the Historic Davenport Hotel quickly became a favored Inland Northwest luxury destination. Davenport Hotels has since grown to include four additional hotels, with all five spanning across downtown Spokane. The Historic Davenport Hotel, Davenport Tower, Davenport Lusso, and Davenport Grand are all recognized as members of Marriott's Autograph Collection portfolio, with the Centennial Hotel being the latest addition to Davenport Hotels. Davenport Hotels offers 1,786 guest rooms, nine restaurants, ample meeting spaces, exquisite ballrooms, and luxury amenities including a spa & salon, fitness facilities, pools, al fresco dining areas, and a home store where guests may purchase the Signature Davenport Bed and Soft Peanut Brittle. Enjoy views of the Spokane River, walking access to Spokane's beloved Riverfront Park and Centennial Trail, downtown dining and shopping, a sky-bridge to the Spokane Convention Center, The Podium and outdoor stadium, and close proximity to parks, local Universities, and historic landmarks and entertainment. All guests who arrive are greeted with the signature warm invitation, as the Davenport's mission has remained the same for over one hundred years: "To so well please our guests that they will be glad they came, sorry to leave, and eager to return."